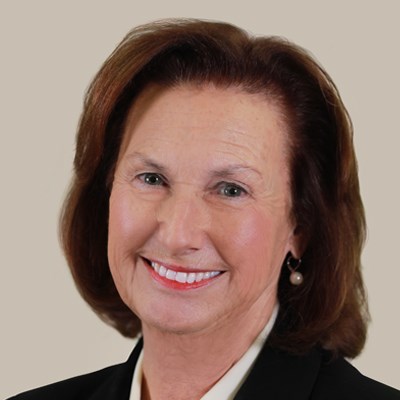 Jean H. Light
Senior Wealth Management Advisor, SVP
Kilmarnock
97 North Main Street
PO Box 1419 (mailing)
Kilmarnock, VA 22482
Irvington
98 King Carter Drive
PO Box 155 (mailing)
Irvington, VA 22480
Rappahannock Westminster-Canterbury
132 Lancaster Drive
PO Box 251 (mailing)
Irvington, VA 22480
Connect on LinkedIn
About Jean
Jean Light, Senior Wealth Management Advisor, and Senior Vice President, Chesapeake Wealth Management has been a member of the Chesapeake's team since 1981 and has more than four decades' experience in new business development, and trust and estate administration.
Ms. Light is a past president of the Richmond County Chamber of Commerce, Past Chairman of the Board of Rappahannock Westminster Canterbury, and Past Board Member and Past Commodore of Indian Creek Yacht and Country Club. She serves on the boards of Partners for Lancaster County Schools Foundation and the Northern Neck Land Conservancy, the Boys and Girls Club of the Northern Neck, Advisory Board of the Lancaster County National Alzheimer's Association, and President of The Ben D. Conley Charitable and Educational Foundation. She is a founder of the Richmond County Museum and Past President of Chesapeake Trust Company.
Ms. Light is a graduate of the American Bankers Association National Trust School at Emory University, Southeastern Trust School at Campbell University, Cannon Trust School, Cannon Graduate Trust School at the University of North Carolina, and the Financial Planning program at Virginia Commonwealth University School of Business. She is a graduate of the Virginia Bankers Association Executive Leadership program and the Center for Creative Leadership, Women's Leadership Program.
I value each and every client and the relationships we build. "As we express our gratitude, we must never forget that the highest appreciation is not to utter words, but to live by them."