Chesapeake Bank: Over 120 Years of History
Learn about the history of Chesapeake Bank, its founding on the Northern Neck of Virginia, and its growth over the 120 years of service.
Chesapeake Bank was formed in April 1900. And at that time, it was the first national bank on the Northern Neck. The bank was originally created to support the watermen, oystermen, and fishermen who worked in the area.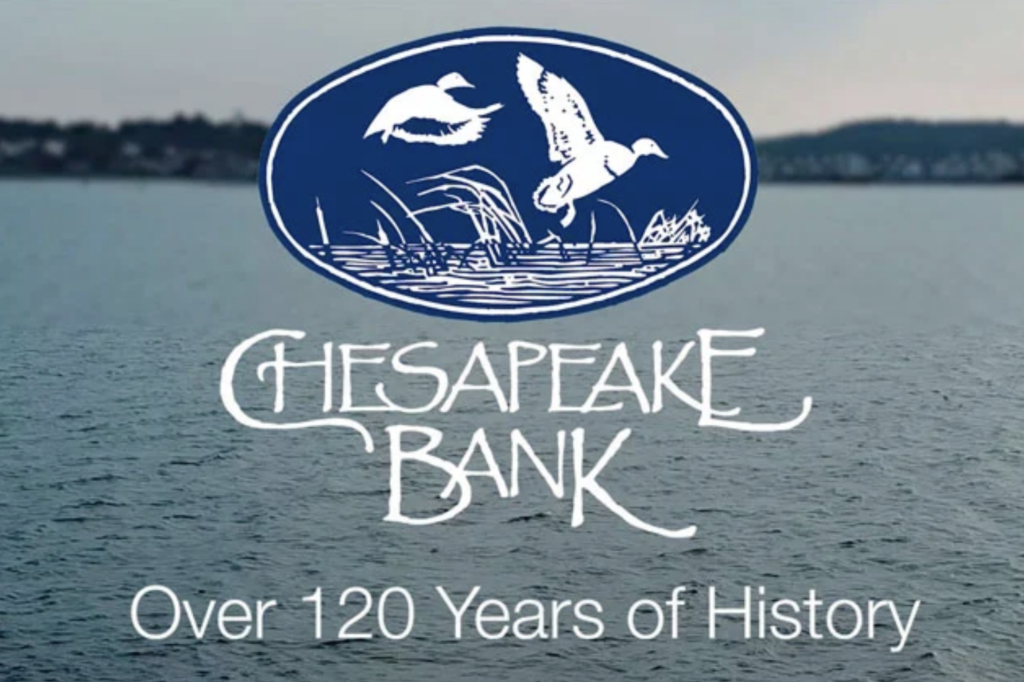 During this time, the bank was known as Lancaster National Bank, and started with investments from local citizens topping out at a modest $25,000.
As the bank grew, it started to expand serve farmers and other businesses as well. On June 18 1917, the village of Irvington burned taking the Lancaster National Bank building down with it. The bank's officers improvised and set up a tent nearby to continue offering services. Luckily, a new building was already underway, which would house operations for many years to come.
In 1968, Lancaster National Bank merged with the Chesapeake Banking Company to form Chesapeake National Bank. It was then when our famous Boat N' Bank took to the water in order to better serve our nautical customers.
Also in 1968, Chesapeake National hired a young banker to pilot their operations — Douglas Monroe. During this time, we also opened our Lively and Irvington locations and built our flagship location in Kilmarnock. Mr. Monroe would be at the helm of Chesapeake Bank for over 30 years, overseeing its growth and expansion into new markets. The first of these outward moves was in 1980, when the Bank opened its first location outside of the Northern Neck, in Mathews County.
This was followed by the opening of our Hayes Branch in 1988… and in Gloucester Courthouse in 1989.
By 1995, our name was changed to Chesapeake Bank, and we began to expand into the Williamsburg market, first with many branches inside of local grocery stores.
This was followed in 1996 by our first freestanding location in Williamsburg at Five Forks. In 1998, we opened our Lafayette Branch, and by the end of 1999, bank assets totaled over $197 million.
As the new century dawned, Chesapeake Bank continued to grow, and we opened a third branch in Williamsburg, this one being the Lightfoot Branch in 2005.
This was followed by further expansion into the Richmond market in 2015, followed by a new branch in Chesterfield County, which opened in 2021.
Through all the change in rapid expansion, Jeff Szyperski, served as our chairman, president and CEO. During this time, Jeff served as the chairman of both the Virginia Bankers Association and the American Bankers Association. Under his tutelage Chesapeake Bank has been honored 15 consecutive times by American Banker as a "Top 200 Community Bank," and 10 consecutive years for being a "Best Bank to Work For."
And in 2020, our assets topped $1 billion for the first time.
While one might think that banking is all that happens here at Chesapeake financial shares. That is only part of what we do. When we say that we go "beyond banking," this is what we mean.
In 1973, we launched the first wealth management operation in the north and neck. Since that time, Chesapeake Wealth Management has expanded to serve all the regions in our footprint, including Matthews, Gloucester, Williamsburg, Richmond, and Chesterfield.
1994 saw the creation of Chesapeake Payment Systems, a subsidiary which offers payment processing of all sorts for many different kinds of businesses.
In 1995, we launched a different kind of business financing product designed to help companies grow rapidly. Today, this subsidiary is known as Flexent and it serves the entire United States with offices in Virginia and Texas.
And throughout this time, we've been opening small branches and continuing care retirement communities, which are also known as CCRCs. To date, we have six of the CCRC branches.
2023 saw another new market for Chesapeake Bank as we opened a loan production office in Newport News, we added another CCRC … Westminster, Canterbury in Richmond and Flexent acquired a fleet trucking finance firm in Iowa, further diversifying our portfolio.
We look at our banking solutions as people's solutions. And that changes how we do and why we do what we do as a financial institution. It's not about just being able to offer our customers the best products and the best services for their needs. It's so much more than that.
We look at banking as people helping people. And that has been our mindset for over 120 years. We started as a local community bank in the Northern Neck with the goal of helping our neighbors and communities achieve their dreams. Now, over 120 years later, that desire remains the same.